7 cool things to do @ Elundini
To keep you well entertained during your stay, the people from Elundini Village have set up some activities for you to enjoy, to get to know a little bit more about Xhosa culture and to give you a sense of how life is in our community. This they do through their 100% self-owned businesses.....for a unique South African experience!!!!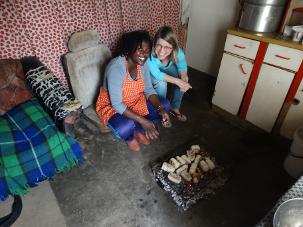 Xhosa Bread making
In 3-4 hours Primrose will tell you all the secrets of Xhosa Bread making. Make your own dough. While the dough is rising collect the wood in the forest and learn how to bind it and carry it back on your head. Make the fire outside and bake your own portion of rostirs. Rostirs are little breads baked on an open coal fire. Love cooking? Then this activity is definitely for you. Impress your friends at home by making Xhosa Bread on a braai (BBQ).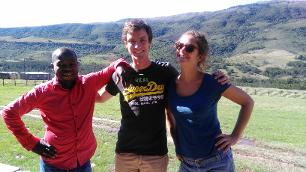 Elundini Village Tour
The best way to start your journey here at Elundini is to go on a village tour with our local guide Vuyani. Visit the local school, kindergarten, shop, etc. Learn about how the houses are build, how people live their lives and a little bit more about Xhosa culture.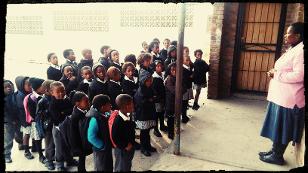 Xhosa lessons
Get initiated in one of the most difficult languages in the world. Twist your tongue and learn the three different clicks. Impress all the Xhosa people on the rest of your trip if you can say 'How are you?' in Xhosa or ask where is the local shop. Locals will love you!!!!
Xhosa Cultural Day Tour
Combine all the above activities in one day. Spend the whole day submerged in our community. In the morning you'll bake your bread and go on a village tour. Enjoy lunch with your freshly bake bread. Learn the tongue twisting Xhosa language in the afternoon. End your day with an amazing dinner at a local family's home and have a cool beer at the local pub afterwards. A true African experience guaranteed.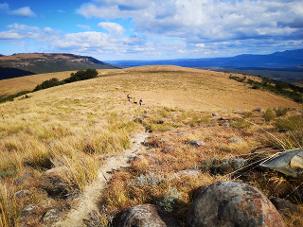 Hiking
There is a viewpoint stroll for the lazy hiker who likes to enjoy an amazing sunset. Mission your way to a beautiful waterfall and enjoy a nice, ice cold shower. Hike all the way with Vuyani to Hogsback in a 4 - 6 hour climb or join us on our monthly 2-day hike that starts in Hogsback every first weekend of the month. For more information about this, check our Facebook page.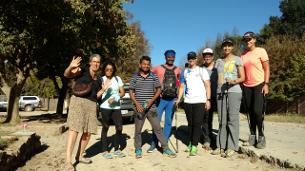 2-day Hogsback hike
Together with our local tour guide, you'll visit the 39 steps waterfall, descent down through the indigenous forest, pass traditional Xhosa villages and make your way to Elundini Village. Sleep over at Elundini Backpackers in dorms and hike your way back to Hogsback the next day. You'll definitely enjoy this!!!
Mountain biking
Picture yourself here: fresh clean mountain air, crossing rocky creeks, blue sky days, trails are single track or country road and the route is clear.
Our mountain bike trips are exciting, safe and filled with high quality adrenaline. Ride through local villages on single track cattle paths or shuttle to Hogsback and then begin the descent via Seymour back to Elundini. A sense of living guaranteed.